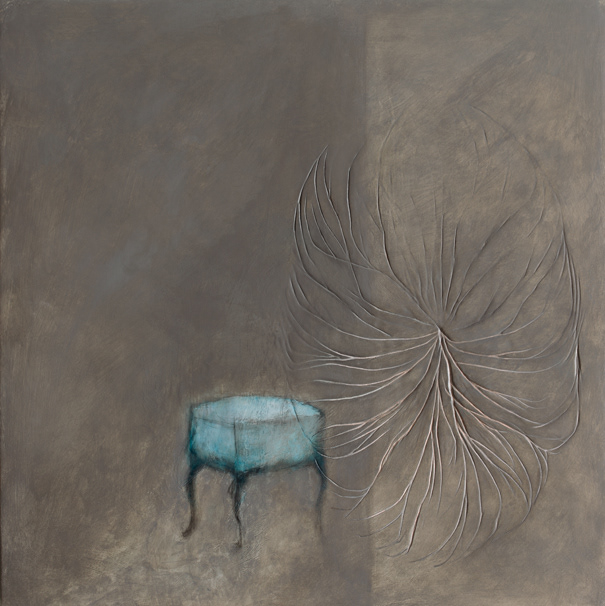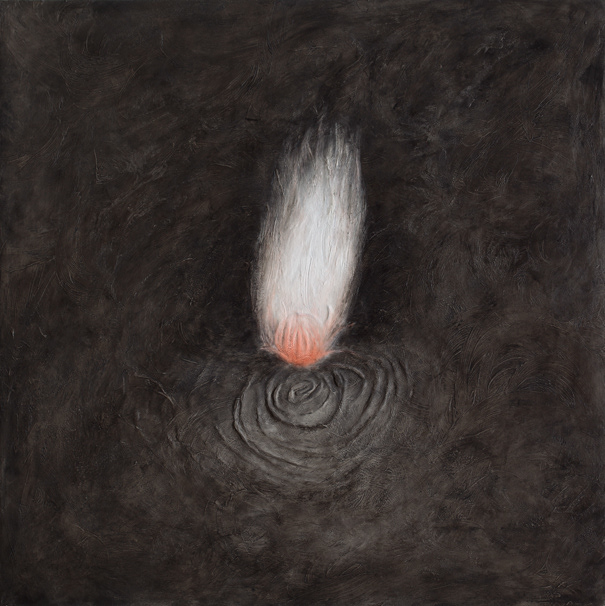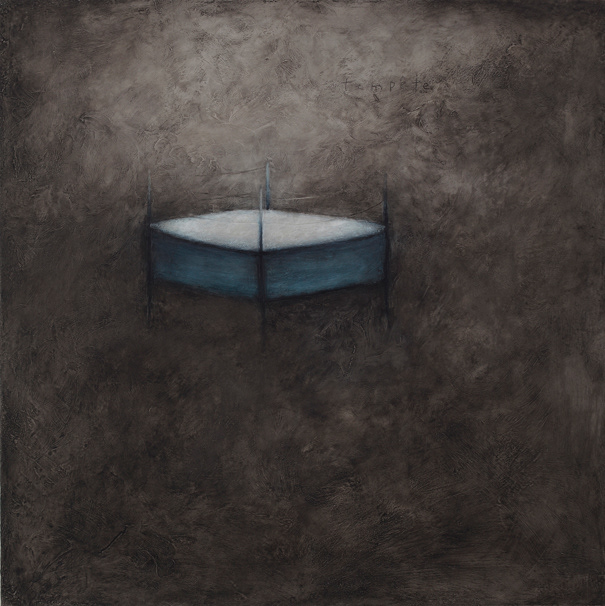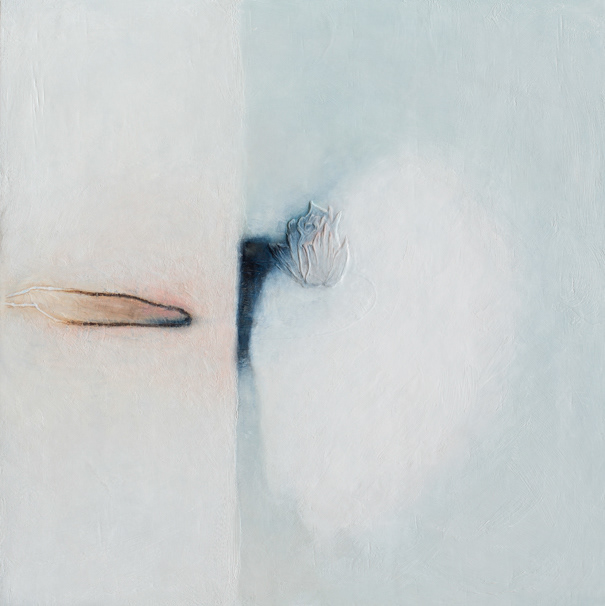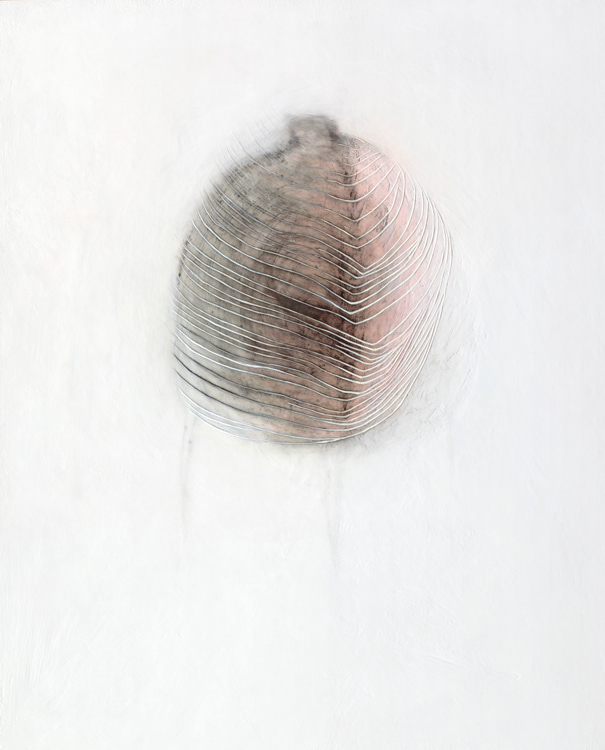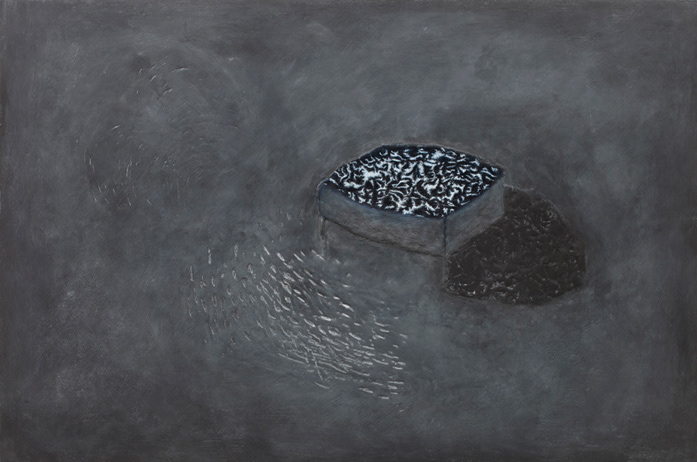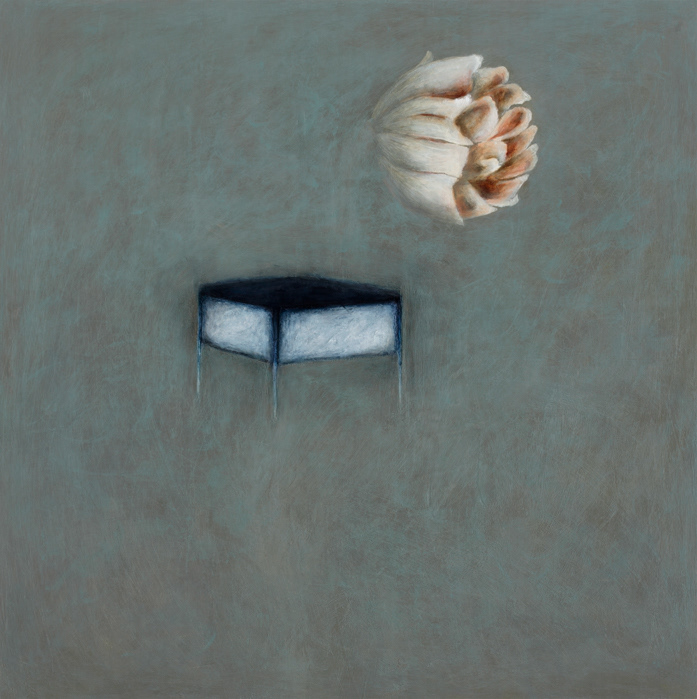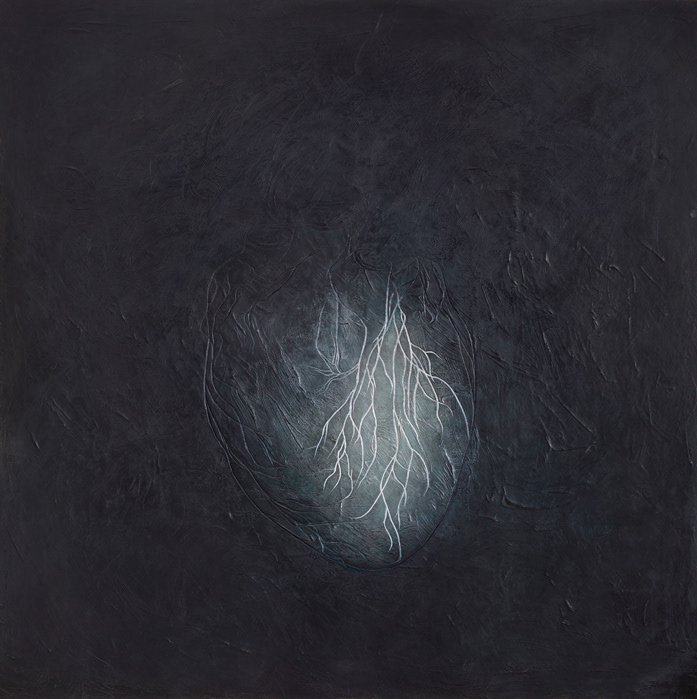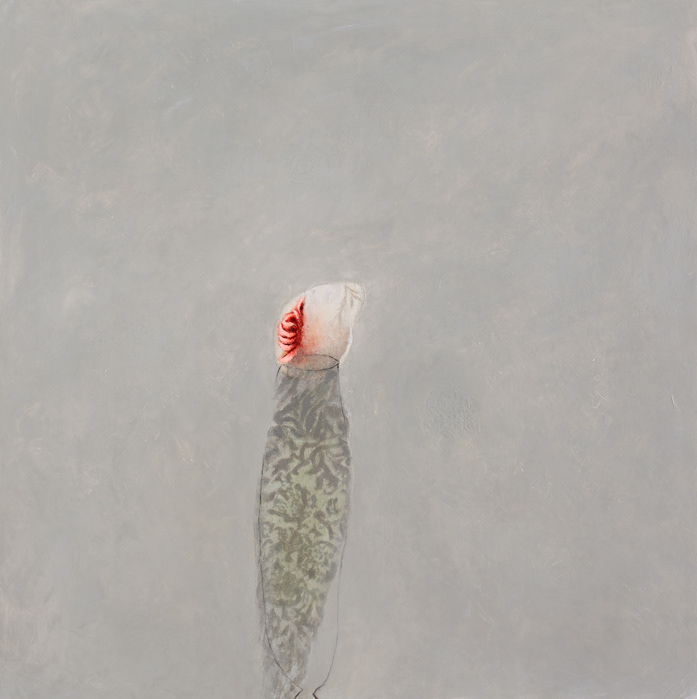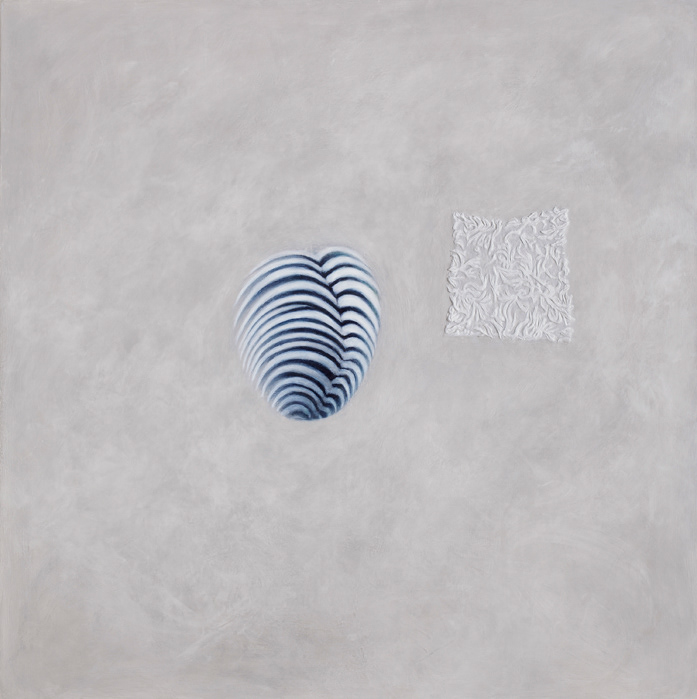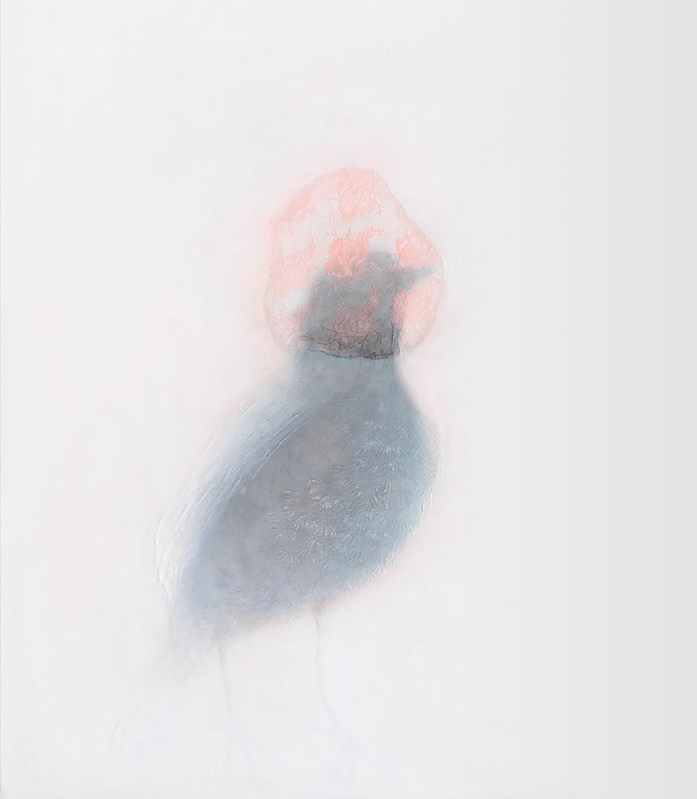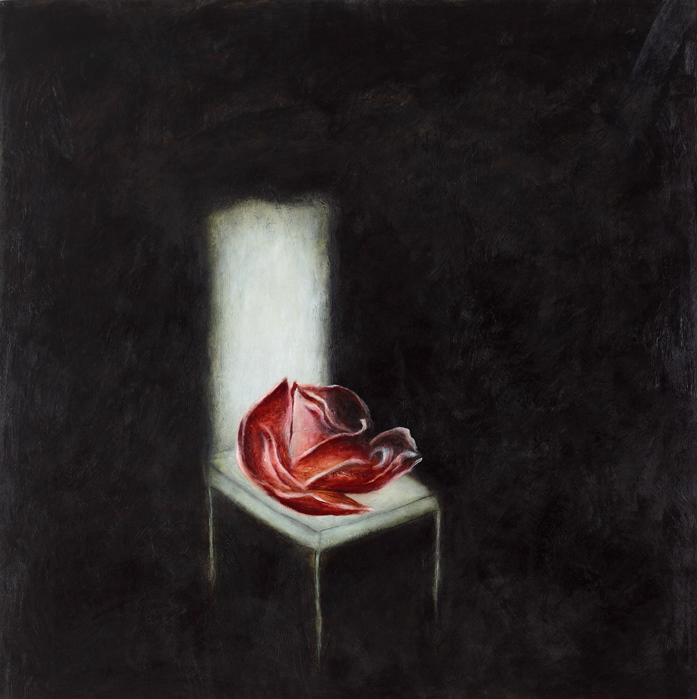 Au dire d'André Breton dans
Le Surréalisme et la peinture
, l'œuvre plastique, pour advenir, doit se référer à un « modèle purement intérieur ». Celle de Judith Bellavance pourrait répondre à ce critère, entre autres, puisque la vingtaine de tableaux qu'elle nous propose aujourd'hui, dans sa série
La robe de Hope
, résulte non seulement d'un mouvement intérieur, mais aussi de l'intériorité même de la matière picturale qu'elle choisit pour donner forme à cet élan.
 Fidèle à la manière qu'on lui a connue dans ses séries antérieures, ces tableaux-ci sont des traversées dépourvues de perspective mais porteuses d'un fait incongru, non divers, que nous sommes appelés à deviner, à percevoir.
La manière de peindre, avec les mains, caractérise la démarche de Bellavance. Elle dit de sa peinture qu'un aveugle pourrait la sentir. En effet, elle-même palpe, frotte, amoncelle, gratte le matériau, le torture et le câline, pour lui faire livrer son secret, lui soutirer une forme qui surgit de la superposition de couches et de couleurs. La relation de l'artiste avec son tableau est fusionnelle. On pourrait dire de son approche qu'elle vise le « devenir-flagrant » d'une ambiance, d'une tension, d'une image. (Une œuvre de 2003 est d'ailleurs intitulée

flagrant son secret

.)
Le titre

La robe de Hope

évoque un prénom féminin en anglais. Si la robe sert à voiler la nudité, elle est également révélatrice du goût et des penchants intimes de celle qui la porte. Pour Bellavance, le mot « hope » se situe près du cœur et, dans cette série, elle nous en montre quelques aspects. À cet égard, l'œuvre intitulée

racontes-moi les actes

, où apparaît un cœur foudroyé sur fond noir bleu, est emblématique de l'ensemble. Des déclinaisons de ces formes se déploieront dans les tableaux : la foudre intérieure deviendra cage (thoracique et autres), masque, filet, dentelle ; le cœur se fera fleur, ballon, flamme. Toujours, les œuvres présentent la rencontre de deux « objets », qu'il s'agisse de meubles (table, chaise, piano), d'ombres, de mots, d'animaux ou autres apparitions. Compagnonnage incongru, certes, mais possible grâce à la matrice commune – le magma pictural – qui leur a donné jour.
Le temps est une dimension intéressante dans ces tableaux qui composent

La robe de Hope

et qui tous posent la question : Quand ? Ils nous situent clairement dans le maintenant de la peinture, devant une œuvre achevée, aboutie, mais sans cesser de nous faire demander : Que s'est-il passé ? Que va-t-il se passer entre ces objets beaux « comme une rencontre fortuite », ces spécimens d'inconscient déposés sur des fonds texturés, moelleux, ouatés, aux couleurs allant de la densité à l'évanescence ?
Comme l'exprime le titre d'une des œuvres,

le goût de la proximité

se fait pressant en présence de cette récente production. L'appel sensuel, si l'on y répond, nous permet de découvrir la subtilité des coloris, des surfaces, des transparences, des luminosités, des « sculptures » surgies de la matière. On peut voir, dans ces témoins et ces traces, l'affirmation d'une origine, passionnément articulée, à la recherche d'une résolution sereine, durement acquise, longuement mûrie, patiemment modelée.
« Parce que peindre, c'est se souvenir » (Orahn Pamuk, Mon nom est rouge).
La robe de Hope
According to André Breton in his Surrealism and Painting, a visual work of art must refer to a "purely inner model." Judith Bellavance's work might be said to meet this criterion (and others), since the twenty or so paintings that make up La robe de Hope, result not only from an inner drive, but also from within the pictorial substance with which she materializes them.
Although a practicing photographer for the past few years, Bellavance is such a passionate painter that it would be impossible for her to abandon a medium that possesses her as much as she masters it. In keeping with her previous series, these paintings are like crossings without perspective where we are invited to perceive or make out a strange, unordinary event.
The way she paints with her hands is typical of Bellavance's creative process. She says that it would be possible for a blind person to feel her work. In fact, she does herself feel, rub, pile up, torture and cuddle the material to make it surrender its secret, to extract from it a form that emerges from the superimposition of layers and colours. Her relationship with each painting is extremely intense. It could be said of her approach that it reaches for the "becoming-blatant" of an ambiance, a tension, an image. (A 2003 work was indeed entitled flagrant son secret—her blatant secret.)
The title of the exhibition, La robe de Hope, evokes both a women's name and a dress. Although a dress is used to cover up nudity, it can also reveal the taste and likings of the woman wearing it. For Bellavance, the word "hope" rests somewhere close to the heart and in this series she shows what she means. The work entitled raconte-moi les actes, where we see a heart struck by lightening is emblematic of the whole. Variations on these shapes appear in the other paintings: the inner lightening becomes cage (ribcage among others), mask, net, lace; the heart turns into a flower, a balloon, a flame. The works constantly show the encounter between two "objects," be it furniture (table, chair, piano), shadows, words, animals and other apparitions. Unusual acquaintances, indeed, but made possible through the common mould—the pictorial magma—from which they emerged.
Time is an intriguing dimension in La robe de Hope and all the works ask the same question: When? They position us in the present time of painting, before a finished, accomplished artwork, yet we cannot help but ask: What happened to these objects during their "beautiful chance meeting"? What will happen to these removed from the unconscious and set against textured, mellow, soft backgrounds with colours ranging from dense to evanescent?
As the title of one the paintings suggests, standing in front of them you feel "the urge to get closer" (le goût de la proximité). If you answer this call to the senses, you will discover the subtlety of colours, surfaces, transparencies, and luminosities of these matter-generated "sculptures." They stand as witnesses or traces where you can sense the affirmation of a passionately articulated beginning and a yearning for a serene, hard-won, nurtured and patiently modulated resolution.
"Because painting is remembering," (Orahn Pamuk, My Name Is Red).
Colette Tougas
February 2014